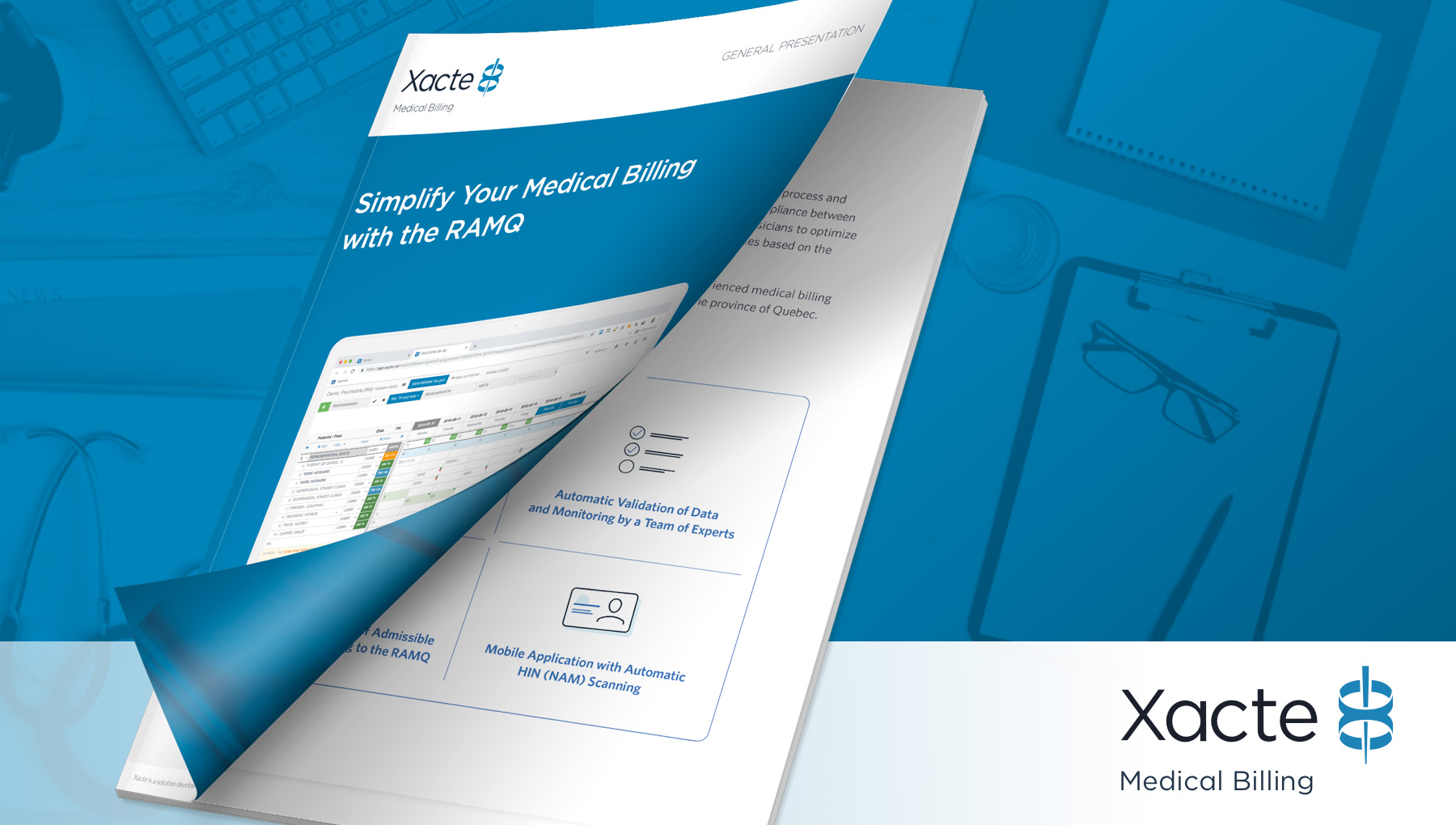 Xacte is a proven Web-based solution that greatly simplifies the medical billing process and eliminates the risk of errors that could lead to payment refusals by ensuring compliance between the services billed and RAMQ's standards. In addition, the system allows physicians to optimize their income, including offering the best possible combinations of billing codes based on the work performed.

Here are the four main components of Xacte that allow physicians to benefit from a turnkey service unique in Quebec.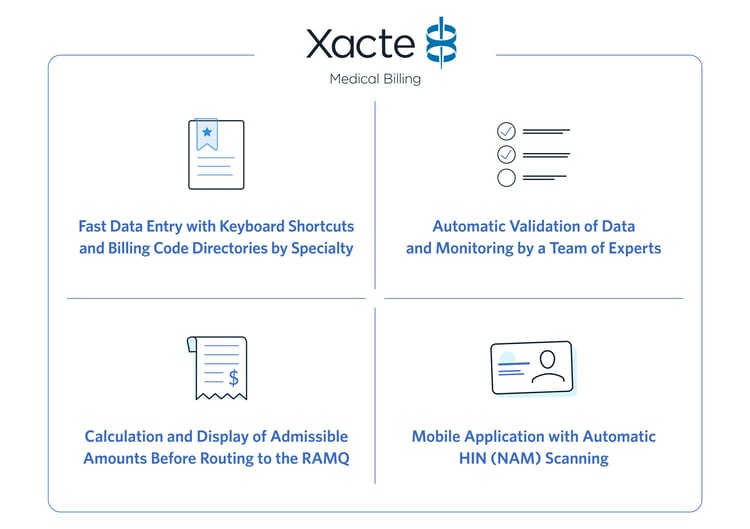 1. Fast Data Entry with Keyboard Shortcuts and Billing Code Directories by Specialty
Data entry is done directly in the mobile application or on the Xacte Web platform. From a single, user-friendly and intuitive grid, physicians can enter their services, travel, blended remunerations and hourly rates.

Sending a payment request is made in just a few seconds thanks to: keyboard shortcuts, checklists available for data entry, reusable templates, duplication for repeated services, and billing code directories personalized according to each medical specialty.


Benefits

Time saved when entering data

Quick access to billing codes specific to each medical specialty

Possibility to bill from any device at any time


"The Xacte mobile application allows me to bill when and where I like. It is user friendly and saves me a lot of time! I do my billing on site after seeing each patient and I minimize my mistakes. The team is amazing! There is a help icon, and if you are having difficulty with anything, with a simple email they will respond to you in the same day."
- Physician user of Xacte, Douglas Mental Health University Institute


---
Simplify your medical billing with RAMQ
---
2. Automatic Validation of Data and Monitoring by a Team of Experts
After the physician enters the data, the Xacte solution validates the patient's health insurance number (NAM) with the RAMQ, as well as the billing codes and diagnoses registered. The system will identify any input errors in real time, so that the physician can correct the information before sending the payment request.


Benefits
Reduction of data entry errors that lead to delays and payment refusals

Assured compliance with RAMQ standards

No displacement necessary to transmit information to the Xacte team of experts


"The Xacte team helped me at every step of my career path, from the beginning of my professional practice, to a change of environment and even with the opening of my medical clinic. Xacte is definitely composed of a highly professional team, having a personalized and peerless customer service. Their expertise quickly proved that I could trust them unreservedly with my medical billing. I recommend this tool."
- Physician user of Xacte, La Pensée Medical Clinic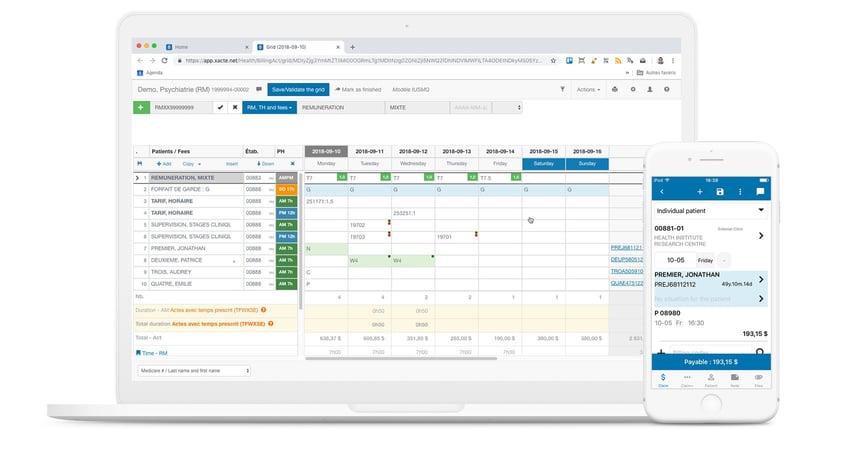 3. Calculation and Display of Admissible Amounts Before Routing to the RAMQ
This feature, exclusive to Xacte, calculates and displays in real time the revenues corresponding to each payment request, thus presenting an overview of the total amount to be received. Physicians can verify their data before sending it to the RAMQ. They can check whether the amounts shown correspond to the services billed and validate that there were no errors or omissions during data entry.

In addition, the system will suggest modifications that allow for the use of more advantageous billing codes or the addition of supplements if needed, as well as validating that the admissible amounts are in accordance with the calculations established by the RAMQ.


Benefits
Revenue optimization through additional verification of the calculations between Xacte and the RAMQ

Prevention of errors and omissions when entering data

Better visibility on receivables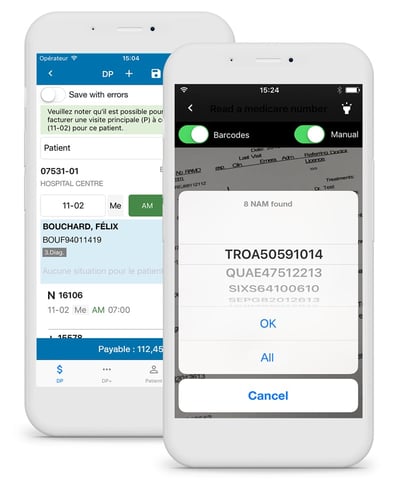 4. Mobile Application with Automatic HIN (NAM) Scanning
The Xacte mobile application allows you to scan and capture one or more patients' health numbers (NAM) from their health card or from any document (paper or electronic) without requiring any manual entry. The application automatically recognizes and transcribes the NAM(s) into the Xacte billing system, instantly eliminating duplicates and reporting any invalid NAMs.

Available on both iOS and Android, the mobile application also offers a geolocation system that allows for automatically registering the workplace location in the payment request.



(video available in French only)
Benefits

Time saved when the physician has to enter multiple NAMs simultaneously

Decreases the risk of errors by reporting any invalid NAMs and automatically entering the practice location

Possibility to manage and view medical billing from anywhere


"My experience with Xacte's mobile application is very positive. Using it is simple, fast and makes complex billing easy."
- Physician user of Xacte, Saint-Eustache Hospital
Explore in Detail the Features and Integrations of Xacte
For a detailed description of this solution; how it integrates with the most common EMRs and Petal Scheduling; download the product sheet below or request a custom demo.