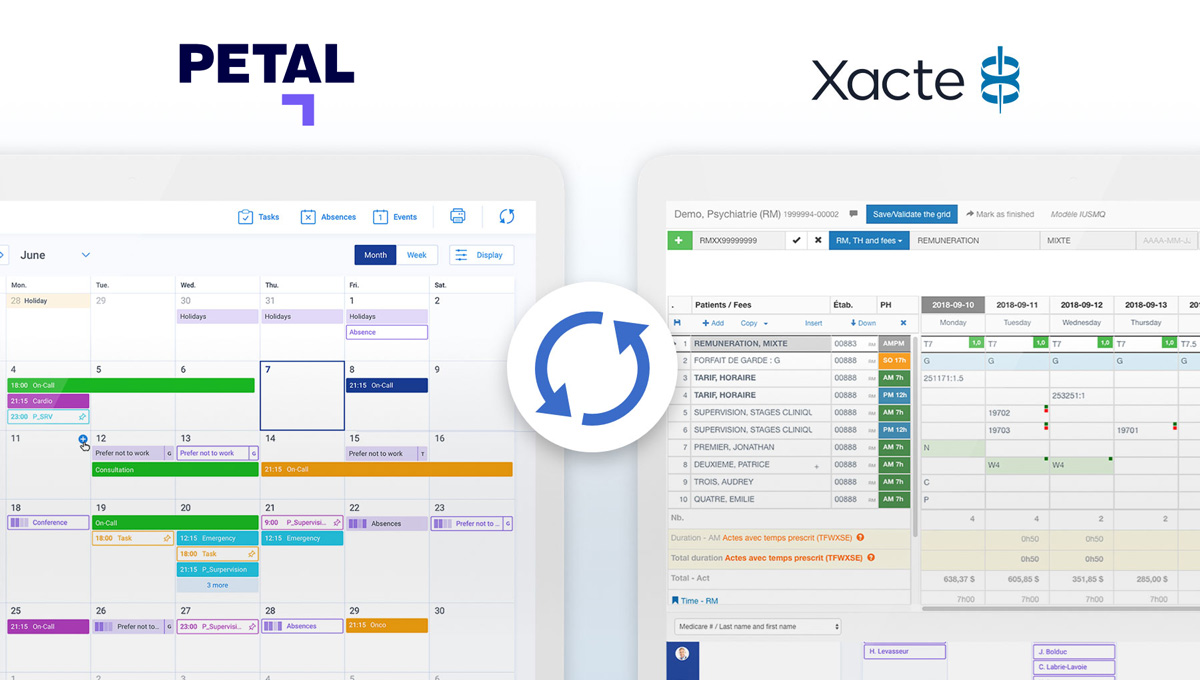 Doctors should not have to spend too much time on RAMQ billing, nor on the manual planning of medical schedules. With this in mind, PetalMD offers physicians, who normally submit their billing using Xacte, the option to bill for services that are registered in their PetalMD calendar with a single click.
Examples of billable activities from the PetalMD schedule include:
On-call fees

Training sessions

Department or clinical meetings

Committee meetings

Lecture clubs

Academic meetings

Training sessions for doctors, students or other healthcare professionals

What Advantages Flow from the Xacte-PetalMD Integration?
Save time when entering your activities


Your activities are already entered in your calendar; instead of recording them in another software or on paper, you can import them with a single click. This advantage is particularly interesting when your healthcare facility already requires your on-call shifts to be entered on the PetalMD platform.



Prevent revenue loss from overlooked sources


A lot of doctors forget to bill certain kinds of meetings for which they are entitled to a remuneration. This integration makes it easier to bill for everything listed in your calendar.



Make sure your billing conforms to RAMQ's rules


The integration of the PetalMD calendar with the Xacte solution ensures physicians that their medico-administrative activities are RAMQ compliant, particularly with regards to meetings. For example, a meeting that is entered in your PetalMD calendar allows you to record the attendance and has necessarily been announced in a meeting notice (a RAMQ requirement).



Ensure the security and confidentiality of your billing data


Billing data is entirely private and only exists in the secured billing solution; no trace is left in the PetalMD hospital platform.



Who Can Benefit From the Xacte-PetalMD Integration?
All physicians who have an active account on the PetalMD platform and who use the Xacte medical billing solution can as of now, and for no additional cost, bill their activities directly from their work schedule.
To take advantage of this integration, please write to aide@xacte.net or request it directly in your chat service, which is accessible from your private Xacte portal.