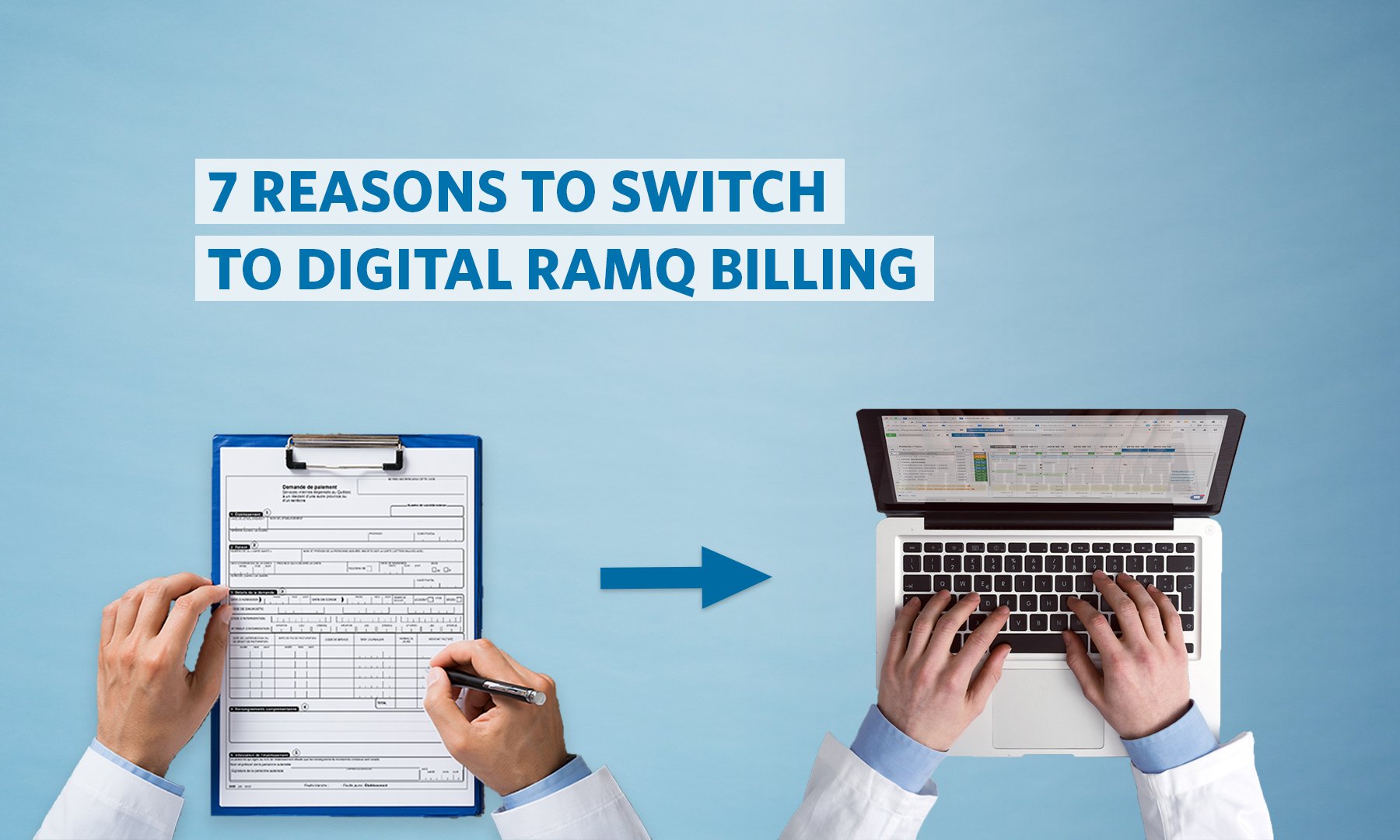 Data provided by the latest edition of Guide des services de facturation de Santé Inc estimates that in 2020 approximately 50% of physicians were still sending paper documents to their agencies.
The pandemic has generally changed the billing habits of many physicians. They are increasingly moving away from traditional paper-based billing to entry into the online system provided by the agency. In fact, many new physicians have already done so: in 2020 and 2021 more than one-third opted to bill with Xacte.
What Are the Benefits of Switching to Digital Billing?
1. Faster Billing
Physicians who switch to digital billing are often surprised at how much time they save, due to input shortcuts and customizable templates. Once these two features are tailored to their practice, physicians can sometimes enter a whole day's procedures within minutes.
Some physicians use a mobile app that scans multiple health insurance numbers (HINs), to integrate a patient list into the billing system instantly, for example. Physicians no longer need to send documents or records, as they can enter their data directly into the billing solution.
2.
Real-time View of Billing
How much will you receive for the procedure you just performed? Or for your day? Systems that regularly update their catalogue of procedures, settings, and markups, based on new information provided by RAMQ, can display the estimated payment for the current billing in real time.
Besides having a better overview of their billing, physicians who go digital can more easily detect omissions and errors when they see a warning, an error or an unusual amount. And if needed, they have privileged access to their billing history and to any changes they made.
3.
Obtaining Full Income
An IT system cannot know what treatments you have provided. However, it can automatically apply settings or markups that you may have forgotten and to which you are entitled.
Not all systems are equal when it comes to automated suggestions. Depending on the complexity of your billing, it may be helpful to compare systems and to invest a little more, as needed, to have access to this level of advanced features.
4.

Value-added Service
When agency staff spend most of their time transcribing hundreds of paper records into digital format, they have little time left to validate statements, ensure that your payment requests are compliant, or simply answer your questions.
When payment requests are entered digitally and can be instantly transferred to the agency, advisors can maximize their time for billing verification and customer service. This advantage does not apply equally to all agencies, as it depends on existing processes and staffing, but it is worth considering.
5. Minimizing Risk if RAMQ Investigates
From 2012 to 2020, the number of RAMQ investigations increased by over 40-fold. When physicians mistakenly bill for procedures or apply settings for which they were not authorized over several years, this can lead to large appeals that can affect their personal finances.
As physicians are always responsible for their billing, even if they delegate it to an agency, they can significantly reduce the risk of problems by using a system that automatically identifies billing errors at the time of entry. As noted above, digital billing can allow advisors to spend more time on the services provided.
6.

Security of Patient Data
The transition to digital billing makes it possible to process information within secure systems, thus reducing the risks of personal email hacking, theft, or loss of mail. Remember: not all systems are created equal. Software that has not had its security standards reviewed in several years will not provide the same peace of mind as software supported by an entire development team.
7

.

Privileged Access to Advisors Via Chat
Connecting to an online billing portal can provide access to preferred connections with billing advisors, particularly via chat. Because everything is centralized and accessible in one place, if a physician has a question regarding a RAMQ billing change or new billing rules, they can quickly ask an advisor.
"The system is clear, the service is fast and courteous, errors are reported clearly, questions and problems are followed up promptly.I have nothing but praise!"

- Dr. Morissette, Obstetrician

"I found my billing easier to complete online after just a few weeks. The team answered my questions well and I benefitted quickly from the training."

-Dr. Côté, General Practitioner

My experience with Xacte's mobile app has been very positive. It's easy to use, fast and simplifies billing."

- Psychiatrist

"The tool is user-friendly, intuitive and easy to use."

- Dr. Girard, General Practitioner
Want to Learn More About Digital Billing With Xacte?
As you've seen a few times in this material, not all RAMQ billing systems are created equal. So, if you're considering switching to digital billing, we encourage you to evaluate and compare the different billing solutions available to you. This could save you a lot of money, time and hassle.
Our team will gladly give you a personalized demonstration, fully tailored to your specialty.