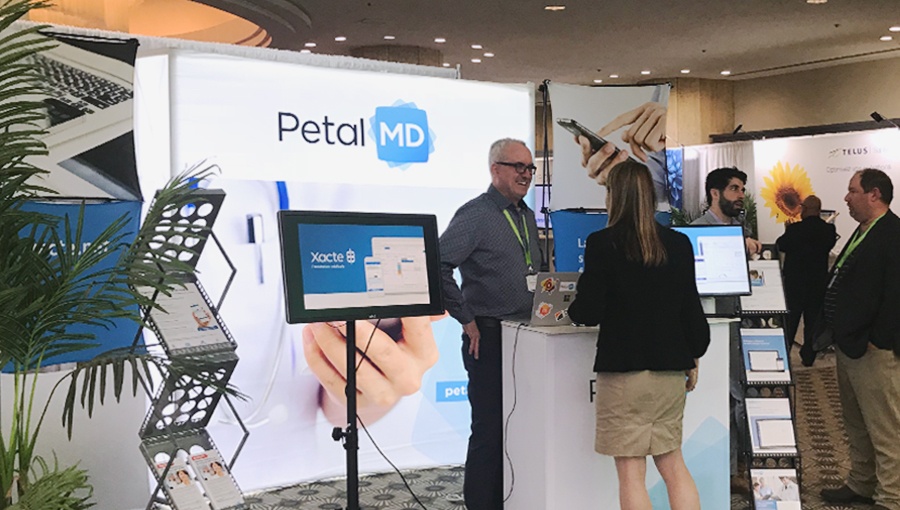 For the 2nd year in a row, the Petal team went to the TELUS Health Collaboration Conference to present our latest innovations for the Petal Booking appointment management system. In addition to allowing medical clinic managers to consult analytical dashboards, Petal Booking now offers physicians the possibility of creating RAMQ payment requests without having to manually enter patient information. This feature is thanks to the Xacte system
NEW - Automatic Entry of Patient Data in RAMQ Payment Claims
Physicians will be pleased to hear that the Xacte medical billing solution, which was recently added to the Petal ecosystem, now complements Petal Booking by reducing the administrative burden generated by the fee-for-service payment modelHow do these two digital health tools work in synergy with a clinic's electronic medical record (EMR)?


1. The patient makes his appointment via the online portal of Petal Booking and enters his or her information.
2. The appointment automatically appears in the medical clinic's EMR, along with the patient's information.
3. The physician uses Xacte to generate a RAMQ payment claim directly from the EMR.
4. The information available in the EMR regarding the patient (last name, first name, date of birth, NAM, location and time of consultation) is automatically entered in the physician's payment claim, which is then ready to be sent to the RAMQ via Xacte.

So, as long as the healthcare service was given in a medical clinic with an EMR; RAMQ payment claims can be created without the physician having to manually enter the patient's information. Once again, this PetalMD innovation was designed to save physicians time, allowing them to devote more energy and time to their patients.
Petal, the Expert in Assisting Medical Clinics
It has been two years now since Petal started supporting medical clinics, who wished to offer online appointment booking and automated reminders to their patients, by setting up Petal Booking. One of the main reasons why super-clinics like the Clinique médicale Saint-Louis, the Clinique Azur and the MAclinique médicale Lebourgneuf FMG chose Petal Booking is because the solution can be synchronized with their electronic medical records. With this integration, it is not necessary for staff to learn a new system.

Video for Medical Clinics
5 ways to digitalize processes in medical clinics
(available in French only)

Another major reason for choosing PetalMD is our team of experts. Indeed, Petal's specialized advisors will take charge of the entire deployment process, from the initial configuration of Petal Booking to its "going-live" implementation, while at the same time, making sure that the solution meets the needs of the medical clinic.
For more information on Petal Booking, contact a special advisor at 1-855-799-2283 ext. 503.